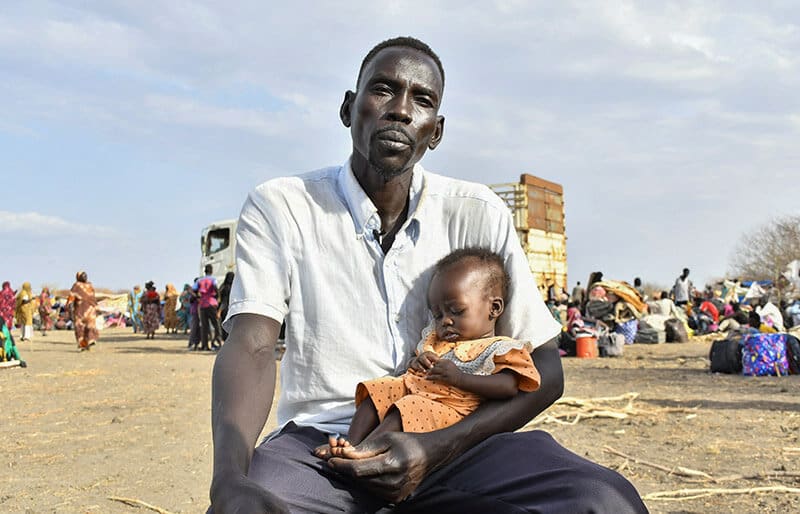 The Times of London, June 24, 2023
In the shade of a sun-beaten tree, on the bank of a dry river bed, five-year-old Rawan Abubakr Ibrahim has fallen into a fitful sleep. Her sister Hamira, 14, sits next to her, fanning her face. She is very hungry. It is about 4 p.m. and neither of them have eaten.
They ate a little yesterday evening, Hamira thinks. Today there is nothing left.
"There's no food here," she says.
The stark, empty landscape is filled with tens of thousands of others like them, mostly women and children, exhausted and silent. They sit in shelters made from scarves, sticks and plastic sheeting that offer no relief from temperatures that reach 35C and the rain that cascades down every day, turning the ground to mud. There are no latrines. Aid agencies expect a cholera outbreak any day now. People are facing starvation.
But it is still better than what they left behind them when they crossed the border from Sudan into Chad a few weeks ago.
In April, Sudan exploded into civil war.
The fighting began in the capital, Khartoum, but perhaps the most catastrophic human cost has been 500 miles away in Darfur, where, in 2003, Arab militias known as the Janjaweed — "devils on horseback" — carried out the first genocide of the new century. An estimated 300,000 black Africans were killed and about two million people displaced.
Now the Janjaweed are back. Once again they are sweeping across Darfur on camels, horses and trucks, slaughtering, raping and burning everything in their path.
Tomorrow, Darfuris living in Britain will tell the Africa minister in parliament of the horror their families have witnessed, including girls being raped and civilians killed.
No one knows exactly how many people have died because there is almost no internet or phone signal: most of the information that trickles out is brought by those who escape. A smattering of photos and videos show villages and towns reduced to a smouldering wasteland, men with guns speeding around in pick-up trucks, shooting at will, knowing they'll face no consequences.
The ones who make it out tell stories of militiamen slaughtering people in their homes and killing those who try to flee.
This is ethnic cleansing on an enormous scale. And this time the Rapid Support Forces (RSF) — the official name for the militias — are vastly more equipped to kill at speed than they were 20 years ago because they are armed and backed by the Wagner Group, the Russian paramilitary company that is also fighting in Ukraine, and this weekend launched what appears to be a coup attempt against the Kremlin.
Earlier this month, the governor of West Darfur accused the RSF of committing genocide. Hours later he was abducted and murdered.
In the past two months, aid agencies on the ground told us, more than 155,000 people have fled over the border into Chad from Sudan — higher than the number officially published by UNHCR, the UN refugee agency. More than 400,000 have crossed into Sudan's other six neighbouring countries: Egypt, the Central African Republic, Eritrea, Ethiopia, Libya and South Sudan, all of which have experienced war or violent instability in recent years.
Diplomats fear the war in Sudan could pull some of these nations — particularly Chad, where many have deep links across the border with Darfur — into the fighting.
More displaced people arrive in eastern Chad every day. Aid agencies are trying to take them to official refugee camps where there is more food and supplies. But they have only a fraction of the funding they need and the task is overwhelming, impossible.
It is about to get much worse. The rainy season is now beginning in earnest, filling the dry river beds that criss-cross this land with rushing streams of water, some of them hundreds of feet wide, cutting off the dirt tracks that are the only roads here.
Aid sent from the Chadian capital of N'Djamena to the border region, a journey that currently takes about four days, could take as long as 15 days to arrive, if it makes it at all. People are already going hungry. Soon they could start to starve. No food means malnutrition, already increasingly widespread in the camps; violence, as the hungry fight each other for handouts; and women and girls forced into prostitution or child marriage to survive.
"It's really, really hard," said Pierre Honnorat, country director for the World Food Programme (WFP) in Chad. He is weighing up some "drastic choices."
The WFP needs £10 million a month to help those most in need, but since the beginning of this year it has received only about a tenth of that. It could soon be handing out half-rations of food, or nothing at all, to hungry children.
Those who make it across the border into Chad bring stories of suffering. In a hospital in Adre, two miles from Sudan, Khalia Abdelrahman sat and watched over her six-year-old son, Mohammed, as he lay silent and bandaged in the punishing heat.
They had arrived from Darfur two weeks earlier, fleeing the Janjaweed. The moment Abdelrahman heard shooting outside their home, she picked up Mohammed and ran for his school, thinking they would be safe there.
Instead, there was a massacre. The militiamen streamed into the town, burning houses and killing, seemingly at random. Then the fighters stormed the school. "They shot at the lock and opened the door that way," said Abdelrahman, 30, who was clutching her son in her arms as they burst in. A bullet slammed through Mohammed's shoulder into her breast. Blood ran down her body, but she held on to him. "We ran," she said. "We saw a lot of dead people. A lot of people being killed."
Dr. Mahamoud Adam Ahmat, head of the hospital where Abdelrahman and her son are being treated — which is supported by Médecins Sans Frontières — said they had received 94 patients injured in the war and four dead, including one woman. "The number is rising quickly," he said. "We've seen people injured with knives and with bullets."
Some refugees we spoke to said the violence is worse than in 2003. "Before, I didn't see civilians being killed. Now I saw a lot," said Malik Siam Hammad, 42, a community leader in Borota camp. A secondary school teacher in Sudan, he fled to Borota from the border town of Kongoharaza on April 19. Most of the people who came with him are women and children: the Arabs, as everyone here calls the militias, stop men from crossing over.
The RSF has denied all allegations of killings of non-combatants, attacks on civilian infrastructure and rape. An official spokesperson for the organisation said the allegations published by The Sunday Times were "baseless and unsubstantiated".
They added that the RSF was working for the safety and wellbeing of civilians and that it had no links with the Wagner Group. They blamed their opponents in the civil war for reigniting the Darfur conflict.
But witnesses told us they had seen people being shot by the RSF while trying to escape into Chad, and that militiamen rampage through the flatlands each day, burning everything as they go.
By the Sudanese border, we watched black smoke rise in the distance.
Rape is used as a weapon of war across the country. A video published by CNN showed a girl, thought to be 15 years old, being raped by a man in uniform in broad daylight in Khartoum. Many victims choose not to seek medical treatment, said Lucie Abigne, a supervisor at a women's psychological support clinic in Borota camp run by the International Rescue Committee. "Women who are raped hide themselves," she said. "There are a lot of psychological problems."
Arabs and black Africans have lived side by side in the region since at least the 14th century, and the cycles of violence have often broken out along ethnic or language divides, though the real prizes are land and power.
Darfur was once a powerful kingdom: a state with prosperous trading towns ruled by a sultan for 300 years until it was conquered by the British in the First World War and absorbed into the colony of Anglo-Egyptian Sudan.
In 1956, Sudan won its independence, with Darfur as one of its largest regions.
It broke into the world's consciousness in 2003, when Omar al-Bashir, Sudan's dictator, sent the Janjaweed to crush a local rebellion there.
Mohamed Dagalo, known as Hemedti, was one of the senior commanders of the Arab militias that plundered the land, aiming to wipe out black African populations and take territory for themselves (they have also recruited bands of Arabic-speaking black Africans into their ranks). They committed the mass killings and rape that led to Bashir being charged by the International Criminal Court with attempted genocide, war crimes and crimes against humanity.
In 2019, Bashir was overthrown in a military coup. Abdel Fattah al-Burhan, the top general in the Sudanese army, rose to become the de facto ruler of the country. With Hemedti, the leader of the RSF, he crushed a pro-democracy uprising.
The fighting that began two months ago in Khartoum started when the two men turned on each other, transforming the capital into a war zone overnight.
Gunfire and artillery battles are still taking place on the streets. The armed forces have scrambled jets to launch airstrikes.
An effort by Saudi Arabia and the US to engineer a ceasefire has failed, but diplomats suspect that even if a peace deal is struck, Hemedti could retreat with his forces to Darfur and continue his campaign of annihilation there.
Alex de Waal, executive director of the World Peace Foundation at Tufts University in Massachusetts and the author of several books about Sudan, said he doubted a peace agreement forged to end the fighting in Khartoum would have "any impact at all" in Darfur. "[This is] really just purely ethnic cleansing or genocide against a defenceless population," he said.
Civilians displaced by the fighting know only that they can't return home. Fadila Ghamees Matar, 25, arrived in Chad this month from the city of Geneina with her six children after the militias burnt their house down.
"Some of them were in civilian clothes, some of them in uniforms," she said. "They had weapons. And they were killing people. I don't know why."
News article: The London Times
Photo: Santino Thon Bol, 39, is a South Sudanese construction worker who returned to his own country after fleeing Sudan. [Jok Solomun/Reuters] | Al Jazeera Photo Gallery