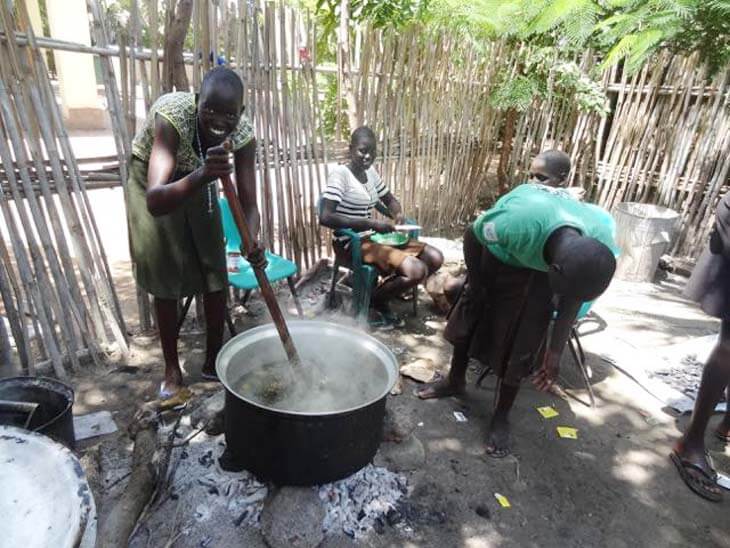 Violent Burnings Cause Death and Displacement—The  South Sudanese Need Your Help NOW!
The people of Riimenze near Yambio in South Sudan had a violent start to the New Year. On New Year's Day the army began an offensive against the "rebels" and began burning homes of people in the area. Two local staff of the Solidarity Agricultural Training Project were burned alive in their homes. Their bodies were taken immediately for burial.
The local people are traumatized by all that is happening and are bringing their possessions to the parish grounds. There is no one left in the village and stories of more burned houses and violent deaths are many. People are sleeping on the ground.
Solidarity with South Sudan has two staff persons, Srs. Rosa from Vietnam and Josephine from Kenya who are present with the people and sharing produce from the farm with the nearly 2500 people, mostly women and children, gathered in the parish.
The Solidarity Agricultural project, managed by Sr. Rosa, is focused on training local farmers, many of whom had been displaced in an earlier civil war. Sr Josephine works with the women and the pre-school on the parish grounds. A community is gradually being formed in the process.
The greatest challenge at the moment is to supply food, medicine and clean water for this growing crowd of refugees. Solidarity had planned over the next six months to raise funds for a deeper borehole with an above ground tank to serve the Riimenze community. The current borehole is no longer functioning, causing a water shortage in the community.
The need is now! The South Sudanese are facing a tremendous crisis and need your help.
If you would like to support the effort to alleviate the suffering of these refugees, please go to our website, www.solidarityfriends.org/donate and make a tax deductible contribution.
Or, you can send a check made out to:
Friends in Solidarity, 8808 Cameron St. Silver Spring, MD 20910.
We so appreciate your support and prayers for peace in South Sudan.