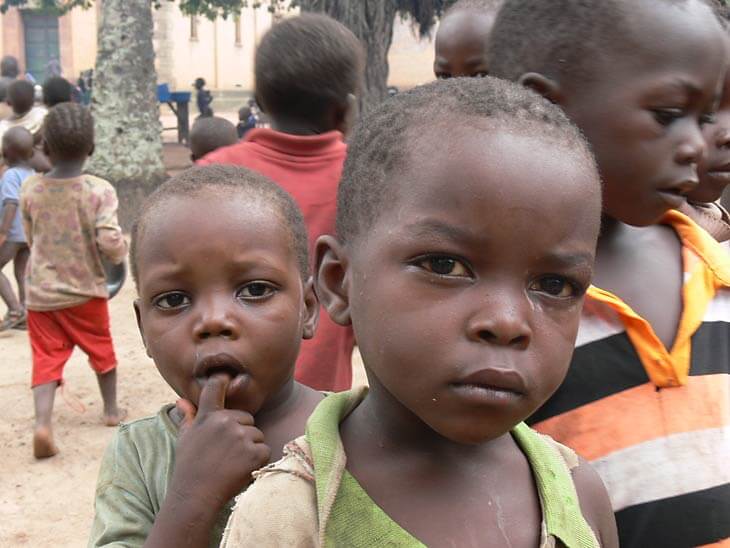 Making a Difference in Riimenze, South Sudan
Want to help a child in Africa? Want to make a difference for a displaced group of refugees? Through your kind donations, you can change the lives of the people of South Sudan.
---
Arriving at St Paul's Parish in Riimenze can be likened to driving into a medieval site with the church surrounded by the people. The camp areas are neatly organized with huts in various stages of development. Early ones are sticks covered with blue or other colored tarpaulins. The longer they are resident in the camp, the more development of the structures. Blue tarps are covered with thatch. Doors are attached to wood frames. Small gardens are cultivated in any free space.
The organization of the camp is the work of the parish priest, Fr. Victor and the Solidarity staff, primarily Br Christian Mbam, a Marist Brother. Pictures do not convey the suffering of the people who, even while in the camp, can be robbed by armed men from the military and/or opposition forces. The situation could be far worse. 7 million people in the country, over half the population, are faced with severe food insecurity bordering on famine. But in this camp, thanks to many generous people like you, there is water; the children, the elderly and disabled are provided with a cup of porridge each day and a meal of rice and beans once a week. Few of the children suffer from malnutrition. A small clinic attends to the health needs. Many of the people are employed by the agricultural training project.  These displaced persons  are not among those facing famine thanks to generous donors and the staff of Solidarity with South Sudan.
With your generosity, you can assist us in the effort to support the South Sudanese. Whether it's helping a child in Africa, or a group of refugees in Riimenze, your gift can save lives. To give today, please use our secure donation page on this website, located HERE.
Thank you!