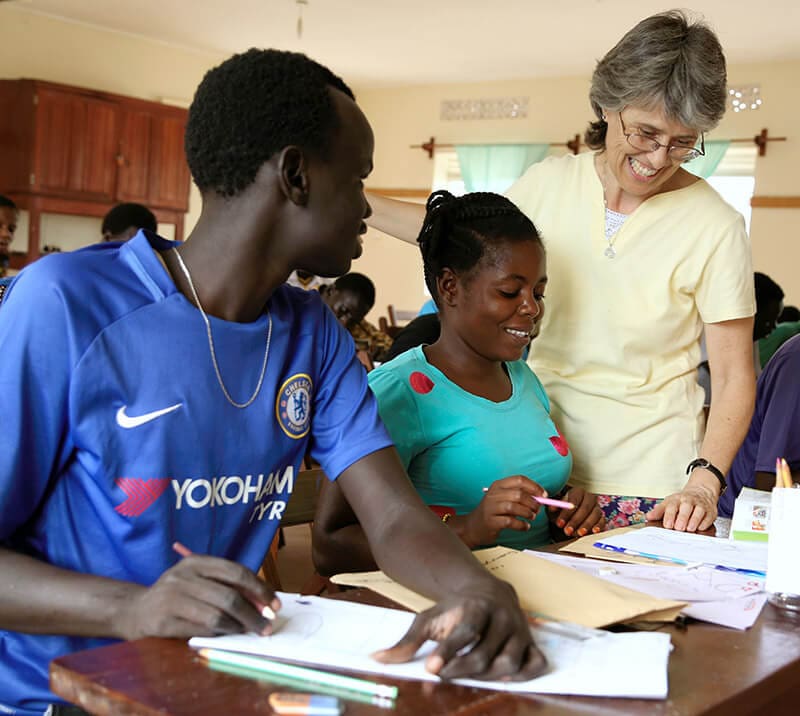 Sister Jacinta Prunty, a Holy Faith Sister of Ireland, recently made a three-year commitment as a volunteer tutor with Solidarity Teacher Training College, resigning from her job as a senior lecturer/associate professor in the Department of History at Maynooth University in Ireland. She says she "lost her heart" in South Sudan in 2019, when she volunteered for a few months at STTC. "After completing a three-year term as head of department, I had the privilege of a semester of sabbatical leave, which the university allowed me to spend as a volunteer in Solidarity Teacher Training College… Yes, that is when I lost my heart. I had never been in Africa before; I had travelled to conferences and to do archives research in various places, but I had never lived or worked outside Ireland. Everything in South Sudan was a shock. And would I be any use at all? But I settled in very quickly, and just loved it, and love it even more each day."
She made this decision with the blessing of her congregation. The Holy Faith Sisters sent her on her way with a socially distanced missioning farewell in October 2020.
"The support parishioners, neighbors and sisters have shown for this mad adventure to South Sudan means a lot to me," said Sister Jacinta.
Sister Jacinta's responsibilities at STTC include teaching English and assisting with the revision of the teacher training program to meet the requirements of the new national curriculum of South Sudan. Her university background has been an asset. "What is extraordinary now, is that the great variety of things I have done so far seem to be exactly what is needed in this new situation: writing up course outlines, training the tutors to write up lecture plans, helping with managing examinations, running staff meetings, as well as teaching… The gifts and experience I have at this late stage of life are gifts, it seems, that are needed here just now. And I thank God for that."
She described her ministry at STTC as "very, very happy," in spite of "the frustrations and fears of COVID-19 taking its toll here in Africa as it has everywhere else."
"Indeed, I keep thanking God that I came when I did… Solidarity with South Sudan here in Yambio is about much more than just staffing a college; we are building community, making peace, and keeping faith with the people of South Sudan."
The COVID-19 pandemic is only one of many challenges facing the people of South Sudan. The newest, and one of the poorest, countries in the world, South Sudan is slowly recovering from a devastating civil war, in which 400,000 were killed, and millions of people were displaced from their homes. In the past year, severe flooding and an actual plague of locusts has exacerbated the problems of food insecurity and lack of access to health care services.
"The obstacles people face are huge. Trauma, from years of war and the fear it generates, has marked the lives of every student (and local staff member) here. And the needs are great… But in teacher training, I believe we really are touching the future. There is tremendous joy, good humor and 'job satisfaction' on a daily basis," said Sister Jacinta.
"We are doing what our own Holy Faith foundress, Margaret Aylward used to urge in the 1860s and 1870s: 'We can do but little, but let us do that little trusting in God'… So, the seeds are sown, and the harvest will come. It is keeping faith. Not easy (who said it was?). But well, well worth the effort. I thank God for the privilege of being fit and well, and able to serve here in solidarity with others."