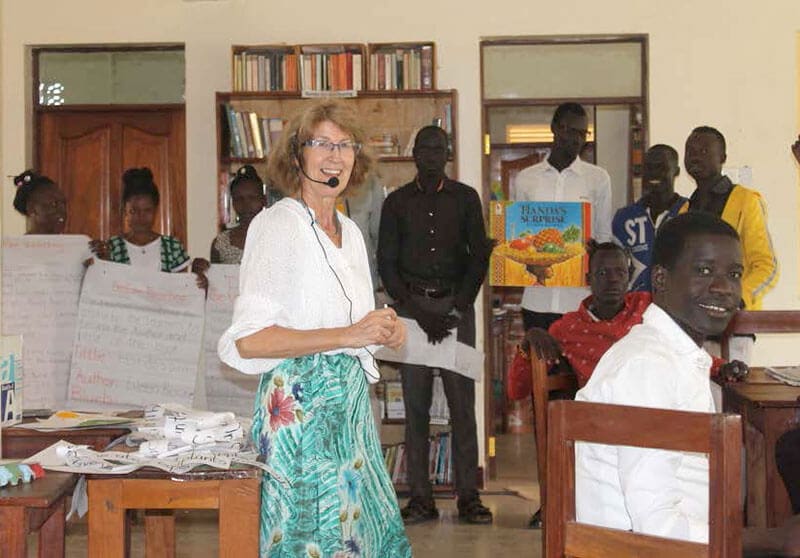 From the Solidarity Teacher Training College newsletter
English is the vehicle for learning across all subjects in South Sudan after P3. And for almost all students at STTC, as in schools across the country, English is their second, third or even fourth language. This is the challenge taken up by our visiting professor from Ireland, Dr. Thérèse McPhillips, who at the invitation of Solidarity executive director Fr. Jim Greene, and STTC principal Br. Chris Soosai, spent January 2022 teaching on Language and Literacy at the college in Yambio.
Thérèse has decades of experience with student teachers on the B.Ed and Master's in Education programs at Dublin City University, Ireland. She has been assisting STTC (in a voluntary capacity) since 2019 with the revision of the certificate program and the creation of the diploma program. It was a pleasure to welcome her in person and to learn from an expert in the field.
Learners gain knowledge of the school subject while simultaneously learning and using the second (or third) language. This concept underpinned the lectures and practical sessions delivered by Dr. McPhillips over two very full weeks.
Week 1 was for students of STTC: week 2, for STTC students and tutors combined, also involved tutors and lecturers from other institutes and various in-service programs. This was the first time we have opened up the campus to other tutors and lecturers.
Dr. John Richard Otema and Emmanuel Loro, lecturers in Education at the University of Juba, joined us, along with colleagues from Catholic University, Yambio, JRS Maban and members of the in-service team at Bor. When the visitor numbers are added to the Yambio numbers — STTC tutors, in-service facilitators, Open University students, and the 80 student teachers here already — the result is a very full house.
Observations from STTC visiting lecturer, Dr. Thérèse McPhillips,
School of Education, Dublin City University, Ireland
I received a very warm welcome on my first day teaching in STTC. I was impressed with the quality of the students' work and their diligence, trying to get everything right (correct) even though for many of them, English is their third language after Arabic and their mother tongue. During the many presentations, they demonstrated some very good teaching skills and classroom management and use of "teaching voice," even among Year 1 students. I observed the students in small groups co-operating and helping each other while making a variety of teaching resources for teaching practice.
I was very impressed with the cultural dancing, planned, organized and presented by the students for all the visitors on Thursday. Some of these STTC students have very strong leadership potential, a hopeful sign for the next generation.
From what I observed over a full month, the student teachers at STTC are on a par with student teachers in Ireland and the UK that I have worked with. There are some gaps in teacher knowledge; for example, the conventions of spelling which arise from interrupted educational experience and, for some students, further handwriting practice is advised, but nevertheless, as a group of trainee teachers they are comparable to student teachers elsewhere.
The work of STTC is of a high standard – and improving, with committed staff bringing expertise from many places. I look forward to seeing these students progress to graduation and take up classroom roles. From my short visits to some local schools, I can see the need for trained teachers is urgent.