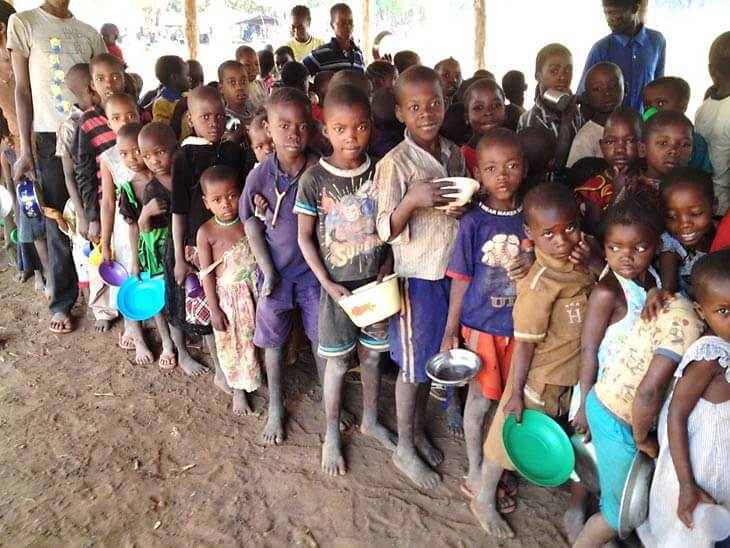 Children awaiting their next meal
U.S. Ultimatum to South Sudan: Stop Violence or No Aid
26 October 2017- (www.albawaba.com – 26th October 2017) U.S. Ambassador to the United Nations Nikki Haley on Wednesday warned South Sudan's president the United States may no longer provide aid if violence continues in the country.
Haley warned President Salva Kiir that the "United States is at a crossroads" following refugees' reports of violence and cruelty carried out by government forces during the nation's civil war. She said the reports may jeopardize the country's access to aid and other assistance from the United States.
"We have to decide how we're going to look at South Sudan going forward, and that will be based on how he goes from here," she said. "And based on his actions the United States will act accordingly."
Haley said she told Kiir the United States needs to see him "right the ship," adding the president acknowledged what she had to say and wasn't defensive.
"It was a very honest conversation. I basically said the United States had invested well over $11 billion in South Sudan and into him, and that we were now questioning that investment. I told them that he couldn't deny the stories about his military," she said.
Haley was forced to cut short a visit to meet with civilians impacted by the South Sudan conflict at a U.N. camp in Juba after hundreds of people protesting Kiir arrived at the camp.
Her security team determined the situation was unsafe and escorted her away.
"The situation just got a little out of hand and our security colleagues decided it was better to be safe and depart a little early," a spokesman said.
During an earlier visit to a "women and girl-friendly space" Haley heard stories of rape, murder, and survival from various women.
"I was mad when I left the camp. How do you not go through listening to those women talk and hearing what their families went through and not just be totally angry at those that are responsible?" she asked.