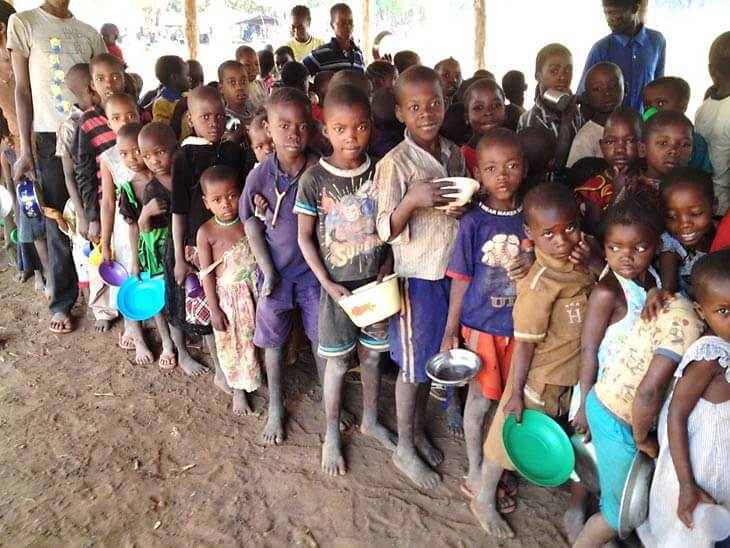 Children awaiting their next meal
House of Representatives Vote for Emergency Funding for South Sudan Food Assistance
The House of Representatives demonstrated overwhelming, bipartisan support for increased emergency funding for South Sudan in a resolution (187) which passed the House on April 25, 2017, 411(yeas)  to 2(nays).  The resolution was authored by Rep. Karen Bass of California.
"The resolution expresses the sense of the House of Representatives that the U.S. Agency for International Development should: (1) increase emergency funding in March 2017 to respond to the famine in South Sudan by providing food and other essential resources and to collaborate with international relief organizations to reach vulnerable populations, and (2) provide emergency food assistance under the Food for Peace Act.
U.S. Aid to South Sudan calls upon the government of South Sudan to: (1) declare and observe a cessation of hostilities to allow food and essential supplies to reach affected civilians; and (2) allow immediate and unrestricted humanitarian access to southern Unity, where the famine is underway.
Condemns all threats and violence against civilian populations and aid workers.
Supports efforts of the U.S. government, working with partners in the international community, to facilitate humanitarian access to affected areas and encourages greater diplomatic pressure on the parties to return to the negotiation table to stop the violence and allow full humanitarian access." (Congressional Research Service)
---
South Sudan Needs Your Help
The South Sudan conflict continues to threaten the lives of many innocent people. With your generousity, you can make a difference. Please consider making a tax deductible donation in support of Solidarity peacebuilding initiatives. To help the people suffering in South Sudan, please visit:  https://www.solidarityfriends.org/donate/