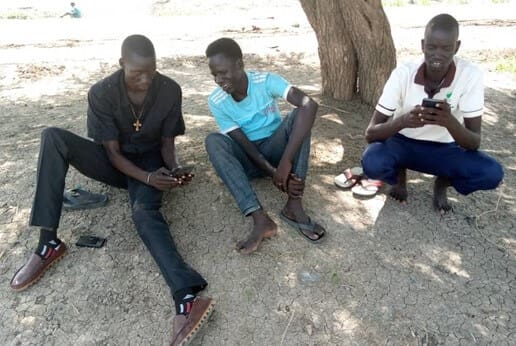 The students of Solidarity Teacher Training College are unable to attend classes in person, but that has not stopped them from learning. The school's remote learning program using smart phones continues, with staff members providing virtual instruction from Italy, Ireland and England.
"The tutors, those within the college, and those who are in their own places are persevering with the classes. Monica is teaching maths from Rome, Sister Ailish is teaching professional studies from Ireland, and Allan is teaching English and CRE from England, where he is stuck due to the lockdown in Melbourne, Australia, his home city," said Sister Margaret Scott, RNDM, principal of Solidarity Teacher Training College. "Phelix is now teaching social studies from Kenya. Brother Chris is doing his maths and professional studies from Juba. So that is part of the magic of the Internet."
The teachers and students persevere, despite the ongoing challenge of unreliable Internet and phone networks in South Sudan.
"Sometimes the best access may be the middle of the night, or very early morning," said Sister Margaret. "We quite often find that the materials returned from students are there in the mornings."
Since STTC set up their online learning system, their methods have evolved out of necessity. Initially, the teachers were using Google Classroom to present lessons, but the students often found it easier to respond through email, Facebook, or What's App.
"The tutors are continuing to learn what is most practical for the students, and change their approach accordingly," said Sister Margaret.
Sister Margaret also expressed gratitude for the donations that help with purchasing smartphones and "bundles" for Internet access that the the young teacher trainees can continue their classes. "The students are very appreciative of the efforts made to keep them in touch with tutors and with study. They often send short messages to say thank you," she said.
"We are grateful to those who responded to our call for funds to purchase phones for students who did not have access to a smart phone. We were able to fund the purchase of 30 smart phones for the STTC to lend to students who need them to further their studies," said Sister Joan Mumaw, IHM, president and chief administrative officer of Friends in Solidarity.
Some of the students are living in Protection of Civilian Camps with thousands of other people.
"Two men from Pibor have only recently been able to make contact… There has been terrible fighting during the past few months in Pibor, and they were cut off, so now they are delighted to be in touch with the college again," said Sister Margaret. "God is good!"