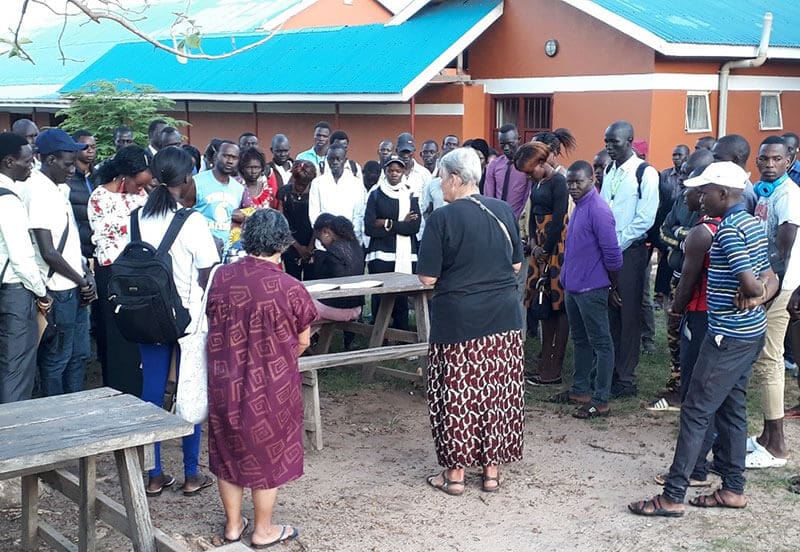 From the staff at Solidarity Teacher Training College, March 23, 2020
Just three weeks ago, we were visited by representatives of Caritas Austria. It was a joyful visit. Our students welcomed them, sang a song that they had written especially for the occasion, and gave them a tour of our compound. Speeches given in return expressed gratitude for the welcome they had received, but also contained a hint of things to come. They reinforced the seriousness of the threat posed by the coronavirus.
Despite the problems of power generation (largely solved, thanks to Friends in Solidarity) and Internet unpredictability, we were keeping in touch with the progress of the disease. Students were reminded of various good hygiene practices, which they willingly took on. Shaking hands, for example, is compulsory with almost anyone that a person meets in this country, but our students heeded the call, and put the habit aside.
Informal discussion in our community led us to take another preemptive decision. Toilet paper did not appear to be in short supply in the town, but it was on our minds, not least because one of our communities had run out of toilet paper when it was besieged during the civil war. At this stage, the virus still appeared to be far from our borders, but it was thought prudent to ensure that we had enough supplies for our students should there be disruptions to the supply chain. With that in mind, we stocked up on non-perishable food, cooking oil, fuel and the like, sufficient to keep the college supplied for some 40 days.
These supplies will wait for our students to return but, if the situation in the country becomes dire, they will be put to good use.
The decision of the government to close all schools and other institutions for 30 days reached us on Friday night, March 20. It now became our responsibility to evacuate the students, for we could not keep them with the potential for legal liability. In the normal course of events, evacuating 120 students might take a week to 10 days, but we were able to secure a charter flight to take 70 students in a large loop about the country, avoiding the necessity of them having to stopover in Juba and await connecting flights. The flight was not a comfortable one, for it was a cargo plane with no seats!
The need to leave Solidarity was accepted by the students, despite their disappointment. It was announced to them on Saturday at lunch. It was announced on the news that institutions such as ours were to be closed, but the implications for them were spelled out on Saturday at lunch time. There was a further meeting in the evening in which they were invited to share their individual thoughts with the student body. It is moments such as that which are most rewarding, for the gratitude of the students for what has been done for them shone through their disappointment.
Our first thought was for the level four students who are very near to the end of their period of training, and who have proven themselves to be a dedicated group with high-level teaching skills. It was obvious that it would be a hardship to them, and a cost to us, to bring them back for a matter of weeks. It was therefore decided to graduate them, with temporary certificates from us, and final certificates to be issued by the University of Juba, and delivered to them at some later stage.
In the same spirit, and because we could not be sure who would return to us, and who would not, we issued certificates of achievement to all other students, indicating the time they had spent with us and their achievements. This was well received by all students.
Because the charter flight was available on Monday morning, much paperwork and organization had to be done very quickly. A simple graduation ceremony was held Sunday evening, to give our senior students a fitting farewell.
There was much exchanging of contact details with one another, and we were already thinking of the need to keep in contact with our students so that they would be encouraged to return, and possibly to keep their minds on the learning process.
We discovered that most of our students have phones, though we did not have time to discover the number of smart phones. Only a handful have an email address. There is a group of 10 who use WhatsApp, and about 40 percent of the students use Facebook. In many schools in the Western world, students are now being given lessons online. We are not able to do that, but we intend to keep close contact with our students as far as we can, and to explore every way we can to continue to engage them in the educational process.
We have one last large batch of students to dispatch to the Nuba Mountains in Sudan. That will necessitate two flights and a four-day road trek, where they will no doubt have to part with some cash to get through various checkpoints.
Obviously, this is a setback for Solidarity, but we are doing all we can to be able to hit the ground running when they all return again. An indication of their connection is the large number of "we've arrived safely" messages that we received on Monday afternoon. They were heartwarming.
Sister Margaret Scott, RNDM, principal, and staff at Solidarity Teacher Training College
Photo by Allan Drummond, volunteer tutor at STTC. "[A scene] from Monday's farewell. It was rather like the army in that everyone was out of bed before dark and didn't leave for some time after that. There was lots of milling about and last exchanging of contact details before Sister Margaret said a prayer and a few words of farewell… It's another body blow to our young people, all of whom have lived through some awful years already. Hopefully, we will see most of them again."