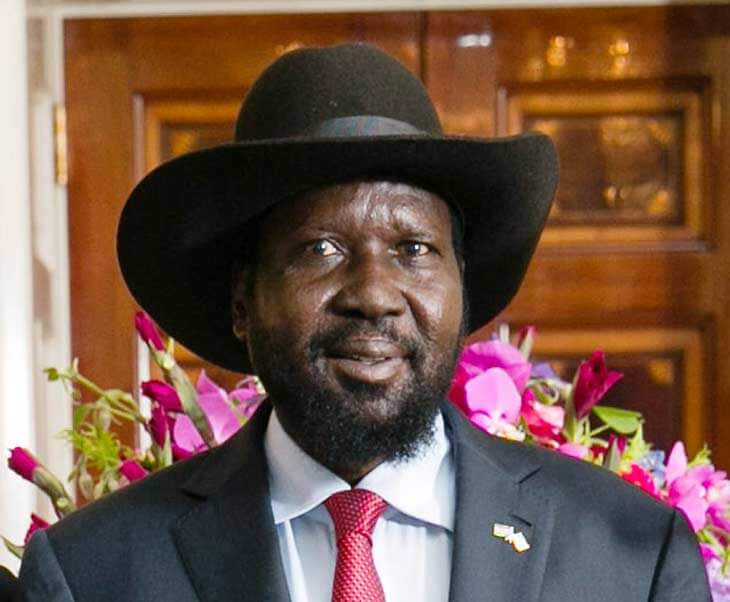 President Salva Kiir Repents: I Sinned by 'What I Have Done and What I Have Failed to Do'
Daniel Danis | March 10, 2017 | 12:48 pm | Eye Radio
President Salva Kiir prayed for forgiveness for what he describes as sins he may have committed while exercising his duty as the Head of state.
President Kiir also called for redemption of the people of South Sudan from the many troubles bestowed on the country.
South Sudanese political leaders took to the podium at the Dr. John Garang mausoleum in Juba to pray on the National Prayer Day. The prayers were led by religious leaders.
Kiir was the first among the Christian political leaders to go forward.
"I pray that you may not bring condemnation and punishment, but
forgiveness and salvation to the people of South Sudan," he said.
He prayed for God to give him a clear mind and an open heart. "Remind
me, God, to be who you would want to be –regardless of what I am
doing, or whom I am with," he said.
"Most merciful God, through my shortcomings, I have sinned against you
in thoughts, in words, and deeds by what I have done and what I have
failed to do," the President said.
"I humbly repent and ask for your loving mercy and forgiveness.
Whatever is in my power to do for the people of South Sudan, please
Lord Help me to be your instrument of love, service delivery, peace,
reconciliation, and forgiveness," he said.
South Sudanese religious leader says national prayer day "dangerous"
March 11, 2017 (JUBA) A top south Sudanese religious leader asked the
president and those who attended the National Prayer Day to choose
peace instead of evil, warning the crowd that the prayer prayed by the
president was dangerous.
Catholic Archbishop of Juba Diocese, Paulino Lokudu Loro asked
President Kiir why he had called the prayer, questioning the
president's motives for peace or evil. "This prayer is dangerous today
because if you have come here I believe this bitterness of our heat
will not go in vain, but God will reply to us. Therefore, I say if
this prayer is correct and is true, then it is about peace. We are
standing for peace, are we going to choose peace or evil," asked the
Archbishop.
"Your Excellency, I want to question you: why did you call these
people to the heat here like this? Are they coming to choose peace? Is
that what your intention is, to bring us here to suffer like this? I
hope nobody will be sick today because of this heat. I believe you
have invited us to see this suffering because you want peace,'' said
Archbishop.
The top religious leader went on to what the government planned after
the prayers took place saying, "our government, which way are we going
to take and what is the government going to do after this prayer? Is
the government going to choose evil or peace? Mr President, take heed
after this. We are telling you that after this prayer your Excellency,
go into a room and pray and decide for peace in the country".
Several prominent Christian leaders, namely retired Catholic Bishop
Diocese of Torit, Paride Taban, retired Anglican Bishop of Bor
Diocese, Nathaniel Garang Anyieth, Archbishop of Anglican Church of
South Sudan and Sudan, Daniel Deng Bul were present.
South Sudan's Council of Churches chose repentance and forgiveness as
the theme for the event, also held in the capitals.