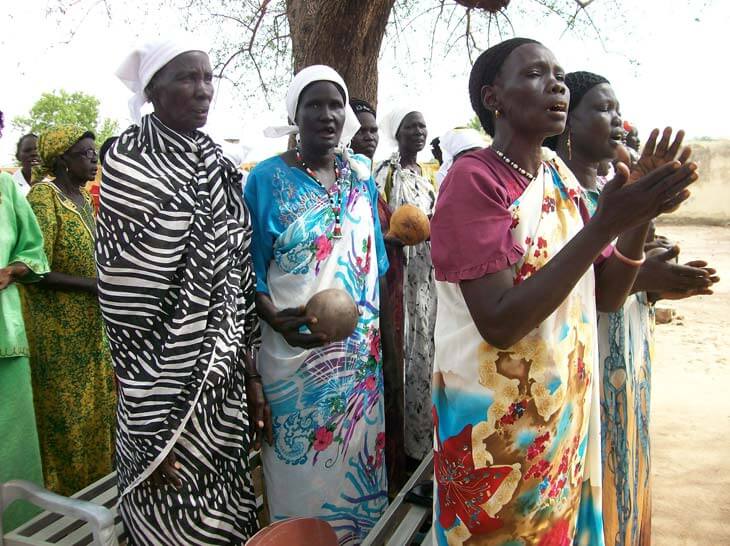 Peacemaking Initiatives Bring Hope
This is what many are saying about South Sudan. Reading newspaper accounts of the ongoing violence which initiated in a power struggle and rapidly moved to ethnic conflict, one would think there is no hope for peace in this new country.
There are, however many peace-making initiatives taking place both inside and beyond the borders of South Sudan. The government has initiated a National Dialogue on reconciliation and peace which is now holding regional gatherings. The South Sudan Council of Churches has received funding from the U.S. Government, through Catholic Relief Services, to develop peace building initiatives at all levels. The Intergovernmental Authority on Development, IGAD, inclusive of the countries surrounding South Sudan, has taken the initiative to hold talks with the opposition leader, Riek Machar, who is being held in South Africa. IGAD is also hosting meetings in Ethopia with a hope of bringing opposing sides together and honoring the August 2015 Agreement. With the splintering of the SPLA, the national army, and emergence of local militias, there are no longer just two "sides." Any peace initiative needs to deal with all the factions and include not only government leaders, but also civil society, women and the youth.
The greatest potential for peacemaking in the South Sudan conflict is the country's rich heritage of community-led peace processes.  The churches are well positioned to assist local communities coming together to resolve local conflicts and reflect on the larger conflict besetting the nation. Bishop Emeritus, Paride Taban, from Torit, has established the Kuron Peace Village and has called on leaders from the area to gather there to engage in processes leading to reconciliation and forgiveness.
Solidarity with South Sudan, working with the National Pastoral Director, is introducing the concept of active non-violence to groups of women, young adults, diocesan pastoral leaders and clergy—building awareness and skills over a three-year period. In turn, these groups will plan together for workshops at the local level.
Sr Annette St. Amour, IHM, a member of the Solidarity pastoral training team, writes, "A quality of the South Sudanese people is resilience.  Month after month, year after year, they have been living in the midst of conflict, insecurity, poverty, hunger and now hyperinflation with the cost of food and basic necessities.  They express being 'sick and tired' of war and conflict."  They are open to any initiatives which will end the conflict and are eager to learn skills to avoid conflict in the future.
We invite you to join with the South Sudanese people in praying for peace.
A prayer for peace can be found here: Prayer for South Sudan
You can also access the Advent brochures at: Advent Journey
---
South Sudan Needs Your Help
The South Sudan conflict continues to threaten the lives of many innocent people. With your generousity, you can make a difference. Please consider making a tax deductible donation in support of Solidarity peace-building initiatives. To help the people suffering in South Sudan, please go to:  https://www.solidarityfriends.org/donate/