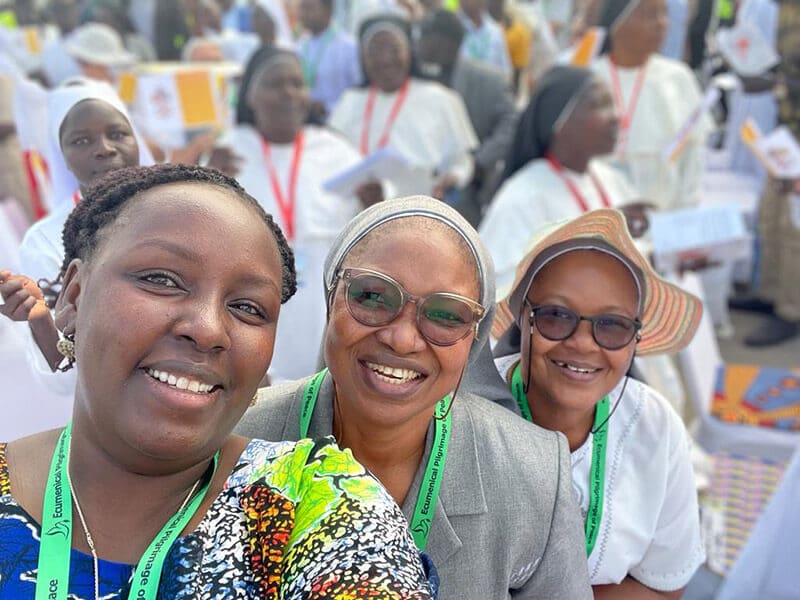 As fate would have it, my arrival in Juba coincided with the arrival of Pope Francis in South Sudan for his first ever visit to the country, accompanied by the Archbishop of Canterbury Justin Welby and the Moderator of the General Assembly of the Church of Scotland Iain Greenshields.
As my plane approached Juba, I had the same thoughts I have each time I travel to a new country, hoping and praying that the immigration and entry process would go smoothly and that I'd encounter officials and individuals who would patiently guide me.
Disembarking on the hot tarmac at Juba International Airport, I'm first struck by the heat, but also by a sense of palpable anticipation as two Kenyan Catholic Bishops are met off the plane by gentlemen in dark suits. There is also a banner with the image of Pope Francis hanging off one of the buildings.
After exiting the health screening building, I start to see various individuals bearing badges and tags with the image of the Pope and others with T-shirts also specially printed for the occasion. With my entry process done quickly (with what I feel was a graced experience), I find a taxi which knows my final destination for that day.
As we make our way the 4-5 kilometers to the Solidarity with South Sudan Juba office, we meet throngs of people lining the streets, dressed beautifully, all awaiting to welcome the Pope. Posters, billboards, murals all compete with various images of the Pope and various messages of welcome and peace.
The Pope definitely continues to be the theme for the next two days as the religious women and men congregate a number of hours before each event to get on shuttle buses organized by the Religious Superiors' Association of South Sudan to ferry us to the various Papal events. Each day, I'm struck by the throngs of people who show up, braving the scorchin sun, walking many miles to attend and listen to the various addresses. At each gathering, spontaneous bursts of shouts of joy, singing and dancing can be witnessed, and none for me more poignant than when the Papal mobile wends its way around the stadium before the mass on Sunday.
The Pope's message, drawing repeatedly on the symbolism of the Nile, highlights the various challenges facing the people of South Sudan and pleads for peace at every level of society, but also that the leaders may come to some agreement for the sake of all.
Sister Mumbi Kigutha, CPPS
President, Friends in Solidarity
Friends in Solidarity welcomes Sister Mumbi Kigutha, CPPS, as the new president of the organization. Sister Mumbi will be spend the month of February in South Sudan, visiting the Solidarity with South Sudan ministries. Sister Joan Mumaw, IHM, outgoing president, will work with her until the end of March.