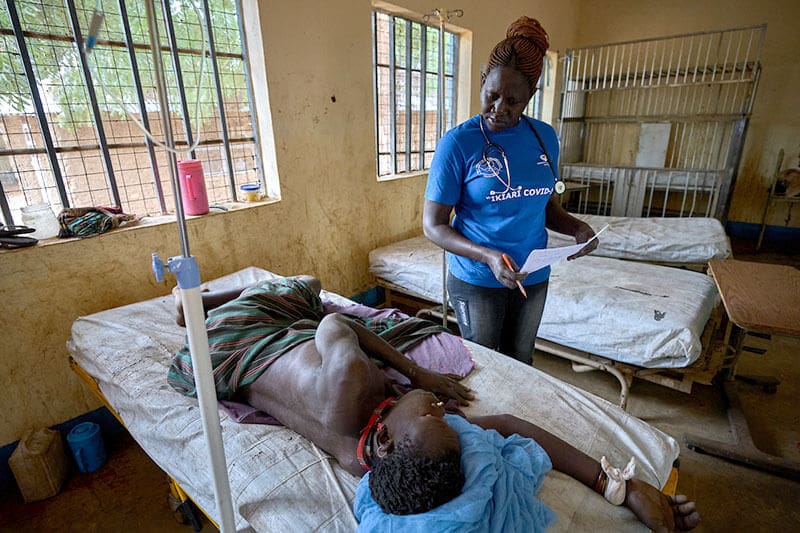 Although Alia Beatrice Peter lives in a country at war, she works in an oasis of peace. As a midwife, she struggles every day to make that peace a lasting reality.
Peter lives and works in the Holy Trinity Peace Village in Kuron, a collection of pastoralist communities in South Sudan's Eastern Equatoria State. It's a place where the church has worked for two decades to stop cattle raiding, child abduction, and other forms of violence between different ethnic groups.
Peter believes that peace is more than just the absence of conflict. It's reconciliation and common purpose, something that Peter, a graduate of the midwifery program at Catholic Health Training Institute (CHTI), puts into daily practice at the Matthew Haumann Primary Health Care Center in the village of Matara.
"These are communities that have many conflicts. But when they come here to the clinic, when a Jie or Toposa comes here, they interact with each other, and that bitterness toward each other will go away from their minds. The clinic helps make peace," she said.
Peter, originally from Nimule, had worked in Kuron as a preschool teacher when she got an opportunity to move to Wau to study to become a midwife. Life at the CHTI was not easy, as she had no background in health care, but she persevered and graduated in 2017, moving back to the Peace Village with one son. Her husband and another child live across the border in Uganda.
Peter, the only registered midwife in the area, manages the clinic's Maternal and Child Health Department. She supervises prenatal care, births, and post-natal supervision. She educates malnourished patients about nutrition–something she studied at CHTI–and encourages them to participate in the Peace Village's agricultural program, which has introduced new foods and farming techniques in an effort to help supplement their traditional pastoralist diet.
She also works with traditional birth attendants in the villages, coaxing them to learn evidence-based approaches to their vocation. As trust has developed, the traditional birth attendants have begun to consult with Peter and bring complicated cases to her.
Although the government provides medicines to the clinic, there are never enough drugs or adequate personnel. Peter and her colleagues at the clinic often have to cope with serious cases that should be referred to a hospital in Kapoeta, but there's usually no vehicle available to transport patients the full-day trip over bumpy roads. So they make do with a mixture of knowledge and pure determination.
Peter says her three years at CHTI, which is sponsored by Solidarity with South Sudan, prepared her well for the challenges she faces today.
"CHTI did a great job. They made me someone who can help their own community. If I'm not here, I can work wherever I want in South Sudan. I can help my community," she said. "I have the confidence and knowledge I gained at CHTI."
Above: Nurse Alia Beatrice talks with a patient in the primary care health center in Matara, a remote community in South Sudan's Eastern Equatoria State. The clinic is sponsored by the Holy Trinity Peace Village in nearby Kuron. Alia Beatrice was trained at the Catholic Health Training Institute in Wau, which is supported by Solidarity with South Sudan.
Story and photo by Paul Jeffrey