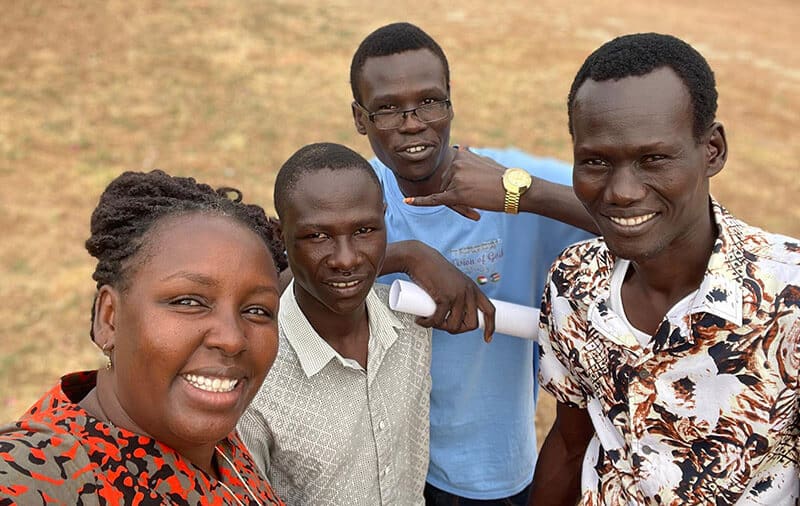 Dear Friends and Partners of Friends in Solidarity,
I've received calls, texts, emails over the past couple of weeks checking in as news of the conflict in Sudan filters out. Even though I have reassured everyone of the Solidarity with South Sudan larger family's safety at the moment, since we are located in a different country, the history of Sudan and South Sudan are deeply intertwined and so is their continued well-being.
I was able to visit the Diocese of Malakal in February and also met with Bishop Stephen Nyodho Ador Majwok. I witnessed firsthand the devastation that Malakal has faced and its ongoing struggle to rebuild due to continued threats but also the lack of proper infrastructure to ensure a steady and reliable supply of goods and services. Solidarity Teacher Training College was originally situated there until the 2013 conflict, and the ensuing damage informed its eventual relocation to Yambio, its present location.
Malakal diocese is vast, covering three states. Parts of it rely on Sudan's roads to bring in food and other supplies. A great number of people from this diocese have been refugees in Sudan due to the 2013 war. Malakal also hosts the only PoC (Protection of Civilians) camp in South Sudan, which is an indicator of continued tensions and potential for large-scale conflict in the area. This is the same diocese that will be receiving many of the returnees fleeing the conflict in Sudan and also new refugees (nationals of Sudan and other countries).
Different reports estimate that the number of people who might cross into South Sudan could be anywhere from 120,000 to 150,000. This would put a further strain on social cohesion due to competition for scarce resources, not to mention past unresolved animosities that could erupt again. The current situation at the border crossing points is dire, and the future looks quite bleak.
Some of our students and lay collaborators have families caught up in this situation.
Recently, ABC news highlighted the devastating effect of climate change in yet another part of Malakal diocese in a documentary.
For the rest of South Sudan, day-to-day life continues to be quite challenging. The value of the South Sudanese pound continues to depreciate, and food prices are on a steady rise, all translating into abject and extreme poverty for an extremely large percentage of the nation. Our Solidarity members remain committed to being a symbol and presence of hope, as they accompany our South Sudanese sisters and brothers and support them in building individual and communal capacity through our various programs.
I appeal to you to share our mission with your friends, colleagues and family. I am available for a conversation or to make a presentation if ever needed and share more about our ministry in South Sudan. Below is a breakdown that demonstrates how much of an impact your contributions make in the lives of so many.
$30 provides basic learning materials (textbooks, paper, pencils) for a Solidarity Teacher Training College student for one year
$42 covers the cost of procurement and distribution of six chickens for one household in Riimenze
$45 covers the cost of procurement and distribution of one piglet for one household in Riimenze
$50 buys one year's worth of textbooks and materials for a trainee nurse/midwife at the Catholic Health Training Institute
$100 provides complete support (board and lodging) to an STTC student for one week
$120 covers one month's salary for the Riimenze Solidarity Agricultural Project Community Animal Health Worker
$650 covers one year of horticulture input support for a woman's group in Riimenze
$800 covers one month for demonstration farm operational cost; materials, farm labor
$1,000 provides food for the Riimenze elderly IDP community for one month
$1,000 provides complete support to a CHTI nursing/midwifery student in residence for two months
$1,000 covers Riimenze staff training for one year
$1.200 covers one year of training on better nutrition for 200 women in Riimenze
$1,500 pays the total cost to keep three nursing/midwifery students in CHTI for one month
$4,800 is the cost of educating a primary school teacher at STTC for one year
$6,000 is the cost of educating a nurse/midwife at CHTI for one year
$9,600 provides an entire two-year STTC scholarship for a primary school teacher student
$10,000 will cover cost of food and drinks for the Solidarity with South Sudan Juba community for one year
$18,000 is an entire three-year CHTI scholarship for a nurse/midwife student
We at Friends in Solidarity remain very grateful for your support. We continue to hold you and your intentions in our prayers.
Sister Mūmbi Kīgūtha, CPPS
President, Friends in Solidarity
Above photo: The members who make up Solidarity with South Sudan are supported by committed South Sudanese nationals who work alongside them in all our projects. Pictured here with me (from left) are Emmanuel, Samuel and Lawrence, who support our pastoral and trauma healing teams based at the Good Shepherd Peace Center in Kit.