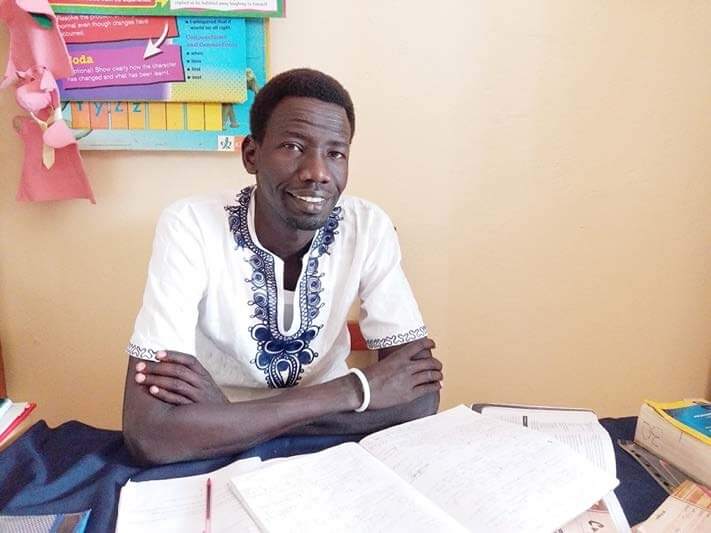 My name is Kuay Gattot. I was born and raised in Mayom county, Bentiu, South Sudan. I am a son of a herder, popularly known as cattle keeper. I grew up looking after different domestic animals ­goats, sheep and cows. We are very much rooted in our cultural practices of our tribe. Polygamy was and is still a common practice in my society. It was very much encouraged. My father was no different. He got married to six women and gave birth to 26 children. I am the fourth child in my family.
I was interested in going to school when I was young. But I could not pursue my primary school education. My home was situated in a conflict zone area. The entire region of Southern Sudan was a battlefield, and that made my life quite miserable. Every child in my community was dreaming to be an educated person. The civil wars inflicted on the poor citizens created a huge division among people. Accessing social benefits from the government and NGOs became impossible. There were no schools in my village, and so my dream was beginning to fade away.
In the years 2001 and 2002, I was forcefully conscripted into the rebel movement, which was then fighting against the Sudan government to liberate the marginalized people of the South. In July 2002, I was wounded in the front line in one of the battles and flown to Rumbek for treatment. After my recovery, I had an opportunity to go to primary school. I began to realize that there was still hope. I felt that my dream was not completely drowned in the river Nile. Later I was lucky even to get into the secondary school as well. In the year 2010, I finished my high school which was known as the Sudan School Certificate. I was hoping to join a university. But on the very thought of the tuition fee, I felt that it would never be possible in my life. I was desperately looking for some support from people to get into a college.
In 2011, when South Sudan became independent, life began to be hopeful and promising. I thought there would be light at the end of the tunnel. I moved to Juba and struggled to get a menial job in the city. I was doing all kinds of manual work with a hope of raising some money to sustain my stay in the city and to sponsor myself to do the university studies.
In 2013, a deadly civil war broke out in Juba and spread to other parts of the country, and I had to seek refuge at the UN protection camp. My hopes of joining the university were shattered.
I came to know about Solidarity Teacher Training College through my friends. Out of goodwill and seeing my wretched poor condition, he persuaded me to go to the Solidarity head office in Juba to get an admission form and attend the interview to do two years Certificate in Primary School Teaching. I followed the admission process, selected, and joined the college on March 8, 2016 and graduated in November 2017 as a primary school teacher. I went to college with nothing and left with lots of knowledge, skills and experiences. Living with student teachers from all tribes, states, cultures, and religions at STTC was a great experience.
Upon my graduation as a primary school teacher at STTC, I applied for the Solidarity scholarship to do university studies at Tangaza, Nairobi, Kenya for four years. I was really blessed to have been selected for the bachelor's degree in education. It was not easy getting adjusted with a different weather, academic work, culture, lifestyle etc. in the new place. I overcame all the difficulties and worked hard to achieve my dreams. The most difficult moments were during the time of Covid-19. I learned to live with lots of restrictions and challenges without even visiting home for a year when everything was shut down at Nairobi.
Solidarity made it possible for me to be a light to my family, my community and my country, South Sudan. I am the first one to have a university degree in my family of 26 children. My special thanks to Solidarity Teacher Training College for having given me the opportunity. My honest appreciation to the donors for their generous contribution, support and kindness through Solidarity.
I am proud to be back at Solidarity Teacher Training College, Yambio, as a tutor to offer my service through teaching.