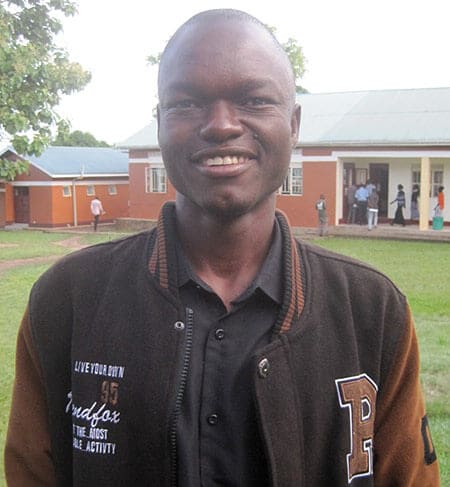 Justin is one of four male graduates fortunate to have been awarded the Solidarity full scholarship to continue advanced studies in Nairobi at Tangaza University. Justin is from Tombura State, 185 kilometers north of Yambio. He is married with nine children, the youngest of which he has never seen, since his wife was pregnant just as he was leaving for Kenya.
Justin graduated from Solidarity Teacher Training College in November 2016. He then left in July 2017 to Nairobi and is studying education with a major in mathematics for primary/secondary level. His classes include computers, database, advanced Basic programming, mathematics, analytical geometry, foundational mathematics, environmental studies, curriculum study, health science, management, communication skills, and many others. His favorite subjects are math and computers. He has completed his second year and will graduate in 2021.
My first impressions were that Nairobi is so far from South Sudan. [here, Justin means that Nairobi is way more advanced than South Sudan.] It is extra far… in terms of every aspect of social life. My eyes were opened. Nairobi people are hardworking and busy people. They are trying to improve themselves, but when I arrived in Juba this time as I was returning, I was asking myself where are we heading to? When you are learning in a different country, you have to really cope with learning their ways and their culture. In that way, I am feeling very okay because I have made many new friends, even though it is Kenya.
A typical day for me starts at 6 a.m. with prayer with the De LaSalle Brothers with whom I live. A quick breakfast followed by a 20-minute walk brings me and my colleagues to the college, where classes begin at 8:30 a.m. and run to 5:30 pm with a break for lunch. We hurry home to shower, do a few personal chores, pray again, eat supper, and then study. I often study until 2 a.m. in an effort to cover all my written assignments, homework and catch up on the large amount of required reading. Sometimes I am really tired.
We play sports in our free time with our colleagues or go to the market or shopping malls. I am an active member in the Catholic Church and I lead the choir with music. In fact, they were crying when I left just now because they didn't know who would lead the music and singing.
For me, the most difficult is missing my family. Our youngest was born when I left for Kenya because my wife was pregnant at that time. By the time I return after my studies, my oldest will be in eighth grade. My home of Tombura has a special problem since there is no communication. So I am forced to go through a third person to communicate…
I think Tangaza University is unique because it has a lot of facilities. Everything is in order and the library is really great. As I looked around I thought: There are so many books in the library and I thought this must be what makes our tutors become the professors and doctors. This is what builds up the country leaders.
What I learned at Solidarity that helped me was the scheme and lesson plan development. In fact, I discovered that they teach the exact same concepts at Tangaza that we learned at STTC, so in this aspect we were equal with our Kenyan colleagues on this subject. I was also very well equipped for speaking in front of the class, as in STTC this was a major part of the training, and I did not have any shyness or hesitation when I had to stand in front of the class… Our professors were surprised how well we could present in classes. We were even better than the Kenyan students.
When I first came to STTC, I had a little knowledge. I was only familiar with the people of the Zande culture, but in the STTC I expanded my horizons, and all these other ethnic groups are now my friends. I see them as my brothers and sisters in one country. In terms of knowledge of topics I really filled my brain with so many new things in STTC. My first thought when I entered was that I was the only one in my family with any type of education. So I thought I would just finish here and go to support my family. But fortunately, I have this opportunity which makes me VERY, VERY happy. My life will never be the same after this experience. I really hope to be able to help Solidarity when I finish.
Justin gave a short talk to the current STTC students, and some of the quotes are below.
You have chosen the right place. Take this time seriously. You are the people who will transform this country.
Use the books. If you don't read there is no way you can pass. Whatever you get in class, use it fully. Don't waste time.
When I first went to Kenya, that is when I realized I was blind. However, after talking with so many others and sharing, my eyes were opened. This means that we need to rely upon one another to make each of us stronger. Unity will build ourselves and our country.
Story and photo by Gabe Hurrish, Maryknoll Lay Missioner