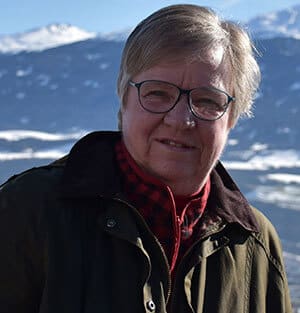 Friends in Solidarity, Inc., is pleased to announce the addition of Sister Barbara Buckley, RSM to the staff as associate administrative officer.
"Barbara sees her work with Friends in Solidarity as an opportunity to use her fundraising, writing, and administrative skills assisting Friends in Solidarity in building capacity among the people in South Sudan, a country with poor infrastructure, corrupt government officials, and extreme poverty. She will focus on increasing the number of donors to support the work of Solidarity with South Sudan," said Sister Joan Mumaw, IHM, president and chief administrative officer of Friends in Solidarity.
Sister Barbara, a Sister of Mercy celebrating 40 years since entering the community at Merion, Pennsylvania, spent most of her life's work and ministry in secondary education. Having a degree from the University of Dayton in English education, Barbara taught in a suburban Philadelphia public school during the time when schools underwent desegregation. Her first ministry was to an all-girls high school in South Philadelphia, where in addition to teaching, Barbara advised the school's award-winning newspaper and wrote public relations material for the school. During this time, she earned a master's degree in journalism from Temple University and eventually started the school's development office. When in 1992 the school was slated to close as part of the archdiocesan restructuring plan, the principal appointed Barbara to spearhead the plan to involve alumnae and the business community to keep the school open. The plan worked and the school remained, at that time, all girls.
In 1993, Barbara returned to her own alma mater, Merion Mercy Academy, and working with a team of other sisters, executed plans not only for the school's survival, but also so that it would thrive. Working originally as the school development director, Barbara assumed many responsibilities, including grant writing, special events, administrative tasks, and capital campaigns. During this time, she earned a second master's degree in organizational dynamics from the University of Pennsylvania. Her final classes at Penn included a two-week trip to China.
In 2007, Barbara was appointed Head of School at Merion Mercy. During her 25-year tenure, she oversaw two significant expansion projects adding 27,000 square feet of space to the school's frontage, reorganizing classroom and office space in the original building, and her capstone project, a 35,000-square-foot gym, dining room, kitchen, art rooms, and guidance suite. Once completed, Barbara had a sabbatical in 2018-19 allowing her to travel extensively, including to Portugal, Spain, Austria, Switzerland, Iceland, and Italy. Her plan to visit Peru was put on hold because of COVID-19. Her Portugal/Spain trip was her second Camino to Santiago de Compestelo, having made the pilgrimage of the Way of St. James from Sarria to Santiago in 2013.