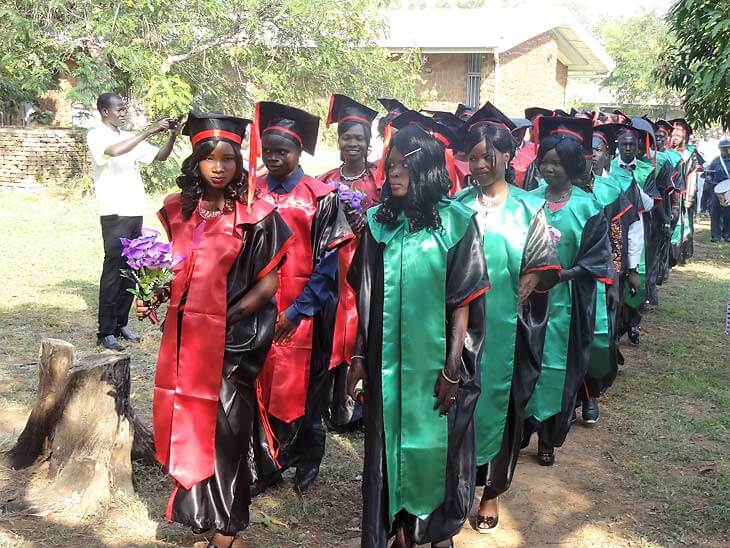 Catholic Health Training Institute Producing Nurses and Midwives for South Sudan
The Catholic Health Training Institute (CHTI) is a critical African education program for South Sudan. A recent communication from the Executive Director of Solidarity with South Sudan is good news for those who support the work of the CHTI.
"In late November 2017, 32 students graduated from the Catholic Health Training Institute in Wau, South Sudan – 20 registered nurses and 12 midwives. All of our CHTI students passed. In fact, 27 out of the 32 gained distinctions and the other 5, credits. No passes or fails in the CHTI but there were elsewhere in the country. CHTI had the top scoring trainee nurse in the country (av. 91.25) and the four top scoring midwives.
There is plenty of anecdotal evidence – and an almost 100% employment uptake record – that CHTI graduates come out not only on top academically but with the best skills in clinical practice. This is not surprising given the great facilities they enjoy, the good teaching, the time devoted to supervised clinical practice, the ability to study at night because of our solar lighting and the good meals and secure accommodation provided.
Our first students graduated in 2013 – all nurses. The first midwives graduated in 2014. So far the CHTI has produced 151 graduates of whom 110 are nurses and 41 are midwives. There is still a huge need for more well-trained health professionals in South Sudan."
It costs $6500 per year to train a nurse for one year and this includes room, board, tuition, transportation (if necessary) and supervision of clinical practice. Where else in the world can you have RNs trained for less than $20,000? (CHTI offers a 3 year residential program.)
Thanks to all of you who have supported this important education program. You are making an impact in the poorest country in the world.
For more information on how to support this effort, please visit our website at https://www.solidarityfriends.org or contact info@solidarityfriends.org